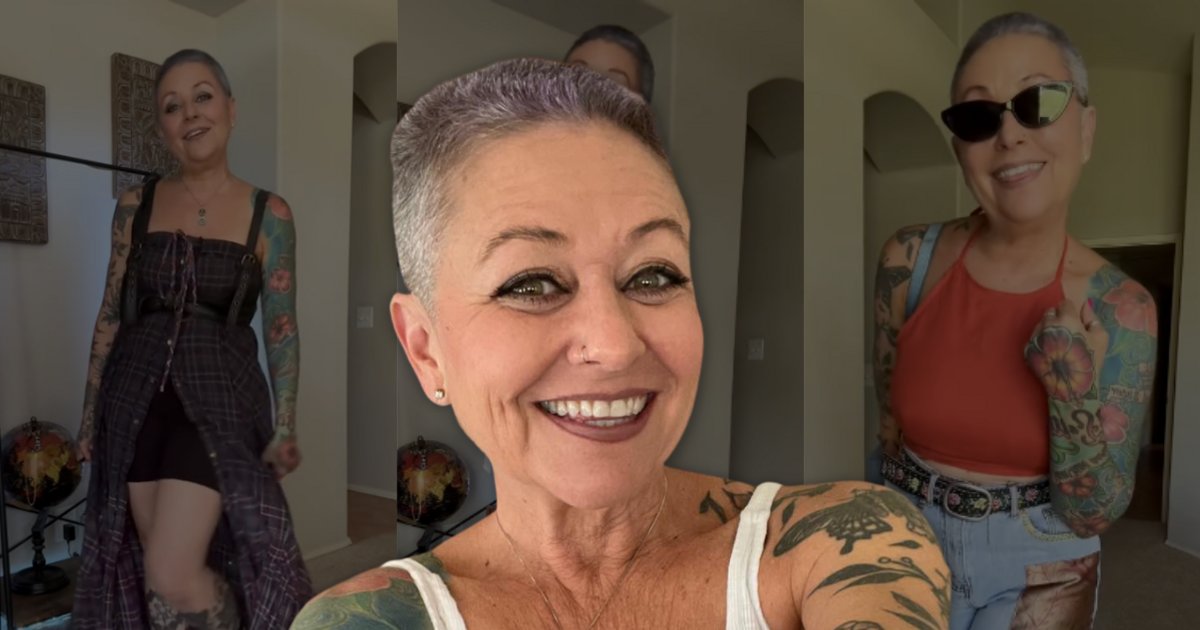 Lonni Pike is not someone you'd walk past without noticing. Her shaved head, tattoos, and fun, alternative style are captivating, though it's her big, warm smile and immense kindness that draws you in the most. 
She's known on TikTok and Instagram as 'Gray Hair and Tattoos,' and, in her 50s, has risen to social media fame by showing that fashion and style can be whatever you want it to be; it doesn't have to fade away or become beige as you get older.
Lonni's journey of finding herself started long before social media came into the picture. At 30, after leaving a bad marriage, she wanted to take her life and her body back. And so, in a biker shop out in the American desert, Lonni got her first tattoo. This, she tells Mamamia, "felt very empowering… I felt it kind of was like a catalyst of what started me on this journey of finding who I was." 
Watch: Mamamia Review Non-Family Friendly Fashion.
Fast forward to 51, Lonni decided to become sober and started learning to really like who she was. This was when she started to share her style and personality on social media. But, despite being in a time of new-found self-love and experimenting with her style, she tells us that she, "started hearing the whole message of, 'well, when you're over 50… you're supposed to wear beige and fade into the corner.'"
Instead of accepting these societal pressures, Lonni said, "No, I don't want to fade away. I just started liking myself." So, she made an Instagram page to share that "fashion doesn't stop at 50… It's never too late to find [your] version of happiness."